Single or Double Glazed Partition? Start With This Question
We regularly help architects make sure an interior glass partition will perform beautifully for their project. But when we're asked to help choose between specifying single or double glazing, we often bring the conversation back to one question: what does a 'full solution' to solve the acoustic demands of a project look like?
This means we help the client consider the impact of everything involving the partition and affecting sound in their chosen space. By thinking beyond just the glass itself, factors like no return air grills and HVAC penetration are part of the bigger picture for the installation.
This quick read introduction explains how a full solution approach can make sure the acoustic properties of a partition are ideal for every specific location.
Read on to discover essential insights! Questions? Just ask. We're here to help.
The Right Interior Glass Partition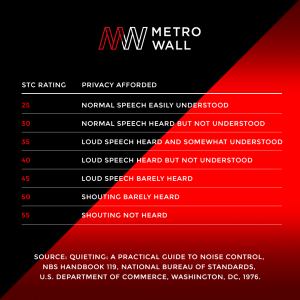 Choosing between single glazing and double glazing for an interior glass partition is, of course, an important consideration.
However, taking a step back to ask what level of sound isolation is needed and how this will be achieved is by the installation as a whole is the recommended approach.
We strongly suggest…
1. Assessing the present and future need: Understanding the Sound Transmission Class (STC) rating needed, ie the reduction in noise the partition must achieve, is an ideal starting point. Plus, for single glazing systems ask if future double glazing requirements might be a possibility as planning ahead for this flexibility is possible.
Tip: Remember that lab STC scores alone can't predict the actual performance of a partition in a project as multiple factors will impact sound transmission loss. Plus, remember that MetroWall double glazed systems can be installed as a singled glazed unit, meaning the infill can be replaced and a double glazed system put into place instead if acoustics on-site become an issue.
2. A 'big picture' view: Contacting an interior glass wall specialist to make sure every element of the install, not just the glass, works towards the STC goal is an essential. Things like gaps left during construction and HVAC vents will have an impact, which is why we believe in 'slab to slab' partitions and assess HVAC's impact on STC during our design process.
Tip: A poor installation is like putting an IndyCar on rough terrain and expecting race track results! Sound will find a way through a partition if the design or installation allows this to happen. 
3. Look for Experienced Acoustic Partnerships: We've worked with leading acoustic consultants – like Cerami & Associates, Longman Lindsey and ARUP – and welcome tests to evidence the performance of the partitions we design, build and install.
Tip: We're happy to join calls and have meetings with acoustic experts, including your own choice of consultant, and strongly recommend only working with partition suppliers who can show this experience and this willingness to collaborate.
This three-step  approach will ensure your project is asking the right questions and taking the right steps to accurately predict noise transmission performance.
Why MetroWall?
We're proud to be much more than just a supplier for the professionals who rely on us for expert help to make their glass partition project as easy as possible.
That's because our team, using years of industry experience, approaches each project as a consultant to ensure successful project outcomes.
We even design, manufacture, store and install our glass partitions ourselves right here in New York.
Ultimately, professionals work for us for two big reasons: our 15 years of experience and our local inventory as this means expertise without the delays!
For product inspiration plus sustainability and LEED data click here. To speak to a MetroWall partitional wall specialist simply contact us. We're here to help.
See also: Three Things to Know About Glass Door ADA Compliance, Sustainable Design and Your Partition Project