Test fits (or preliminary space plans) are a foundational component of design and build projects. Not only do test fits help tenants determine if a commercial space is the right fit for their needs and their budget, but they also give architect and design teams the opportunity to think deeply about materials and systems they'll want to use and how to implement them.  
 In our experience, test fits also enable our architect and design clients to identify unique challenges in a space. Discovering and learning about these problems early on gives them time to find solutions that meet the tenant's expectations and their design needs. This ensures suitable space and glass wall systems are chosen and minimize unforeseen challenges that could drive up costs or extend the timeline of a project.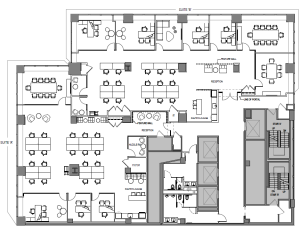 As a result, once an architect or designer decides they want to use MetroWall's glass wall systems in their project, we recommend getting our team of experts involved in the design process as soon as possible. Being involved during the test fit stage helps us better understand the design intent, the desired aesthetics, and the functionality required from the glass wall interiors.  
Once MetroWall is spec'd, our architectural representatives offer valuable insight on our glass wall systems, guidance based on previous experience, and coordinate with our team to find solutions tailored to the project. A few topics we frequently discuss with our architect and design clients during the test fit stage include: 
Acoustic and STC ratings 

Sustainability 

Door types and function 

Custom components (if required) 

Security needs 

Review of other project components (e.g., flooring, ceilings, etc.) 
Of course, there is plenty more to talk about, but in our experience every project is different and comes with its own unique challenges. In addition to offering guidance and collaborating with A&D teams to find solutions, we provide quick turnaround budgets to manage tenant expectations and help A&D teams maintain their design intent. 
A good example of this can be seen in the project we collaborated on with HLW International at the International Flavors & Fragrance Inc. IFF wanted glass wall interiors that would deliver a bold and modern aesthetic. But they also had specific olfactory requirements for their testing environments that needed to be met. Our team worked with the HLW designers to create airtight glass booths by utilizing single-glazed versions of our DG system with framed doors, drop seals, and custom Bespoke sniffing windows mounted in the doors.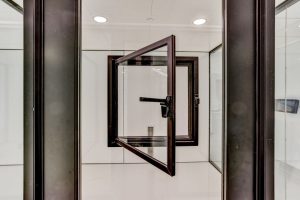 Working closely with the A&D team early on not only enabled us to come up with an ideal solution, but also ensured that our project managers, production team, and installers were aware of the details of the job, making for a frictionless experience.  
MetroWall is redefining architectural design and build standards for glass wall interiors. Download our brochure to learn more about MetroWall and how our proprietary, integrated process can make a difference on your next project.