Author: Tim Donaldson, Business Development Manager
With vacancy rates skyrocketing, tenants hold more power in the Washington, DC market than ever. As a result, just like we're seeing in the Boston and New York markets, landlords are faced with the challenge of making significant improvements to build high-end commercial spaces on tight budgets. To win long-term leases, we recommend focusing on both aesthetics that let in lots of natural light and considering visual and sound privacy needs.  
Many employees and workers prefer spaces that allow ample natural light to flow throughout the entire space—not just in the executive boardrooms, communal meeting rooms, and corner offices. And it's easy to understand why. There are countless studies that prove exposure to natural light enhances our productivity and boosts our body's immune system. In short, a space with lots of natural light elevates a commercial interior space and we know that bold designs win in today's markets.  
As a result, we're seeing many landlords and designers move away from drywall and go with glass wall interiors. Glass interiors ensure plenty of sunlight will penetrate the space. But while tenants want an aesthetic that lets in sunlight, they also have visual and acoustic privacy requirements. Fortunately, there are multiple options to choose from to strike a balance.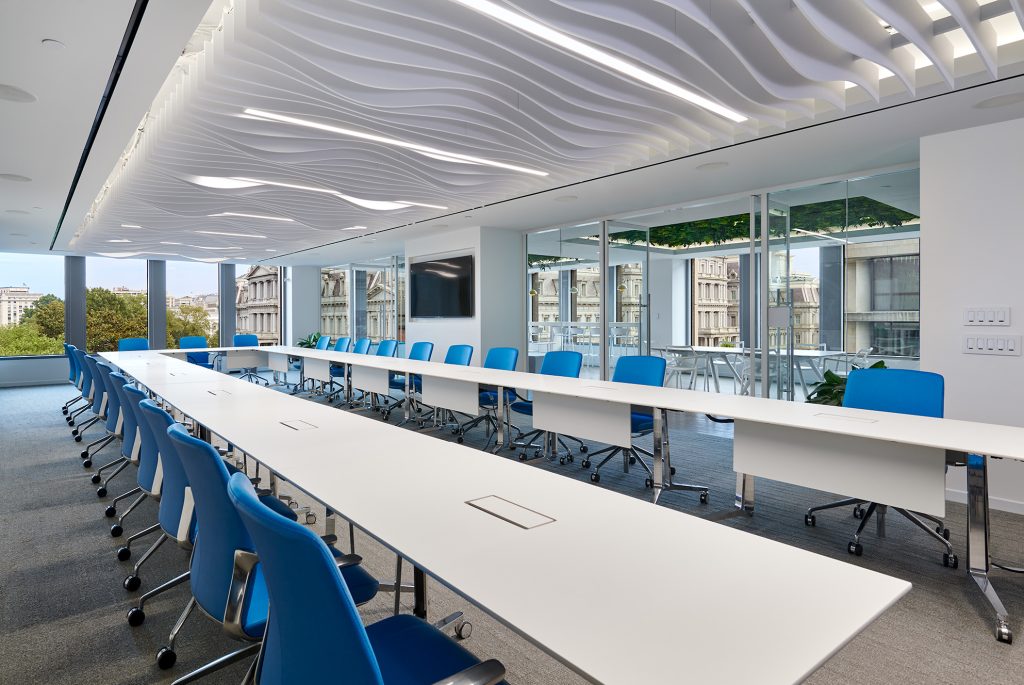 Acoustic Performance
For acoustic privacy, more and more offices are being built with dual glazing. Much like an exterior insulated unit, interior dual-glazed systems have an air space between two panes of glass, and these systems can achieve high STC ratings. 
Clients who need to prioritize acoustic performance often choose to go with a double-glazed glass wall system, like our DG or HUSH Series. But glazing isn't the only factor that can impact acoustics. Glass thickness, flooring, doors, and more can also affect performance. In fact, door selection is often a concern for our clients. Traditionally wood doors have been used to help absorb sound, but now there are slimline doors, dual-glazed doors, doors with drop seals (like our Serene Door) that offer transparency while maintaining high levels of acoustic insulation.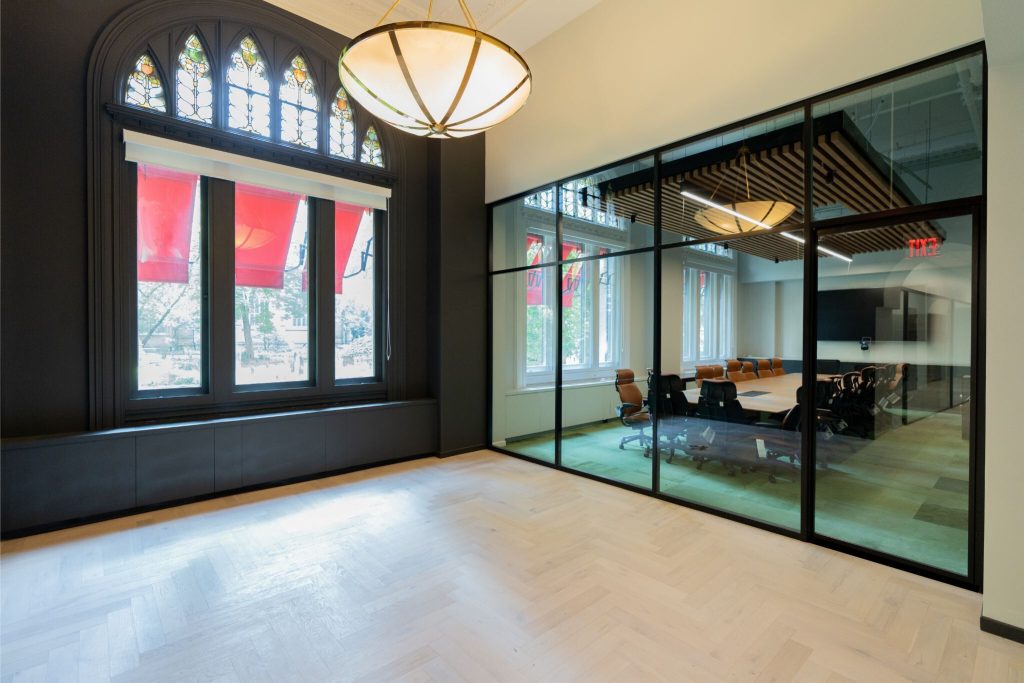 Visual Privacy
When it comes to visual privacy, surface-applied films have long been the go-to solution to break up sightlines, while still allowing light to pass through into offices and conference rooms. If an architect wants something with a more dramatic aesthetic, fritted- and back-painted glass can allow light to pass through and still serve as a decorative element.  
For locations where maximum light is preferred but at times complete visual privacy is required, switchable glass can take your glass walls from clear to opaque with the flick of a switch. There are even special cloaking films available that allow for full transparency while blurring out screens.  
Striking the right balance between the desire for a high-end space and providing the privacy requirements tenants are looking for can be challenging. But the key, we've found, is choosing a glass wall provider with a variety of glass wall systems that are customizable. Because elevating the human experience isn't just about a bold design, it's about creating a functional space that meets present and future needs. 
---
If you have an upcoming project involving glass wall interiors, contact us with more details. If you have more questions about the solutions we offer, download our brochure to learn more about our proprietary process and products.